Advertising Week: Sympler x Chemistry Dig into 2022 Gen Z Holiday Shopping Trends
This article was originally posted on Advertising Week.
How Gen Z Is Shaping the 2022 Holiday Shopping Season
By Alexa McGriff, Brand Strategy Director at Chemistry
From an obsession with TikTok to a desire to revitalize '90s fashion and makeup trends, Gen Z is defining what's popular in American culture, and holiday shopping will be no different. Their habits and preferences will shape what consumers buy and how brands show up this season.
To understand those preferences, Chemistry partnered with our in-house The Market Research Lab and Sympler to dig into what holiday shopping trends – driven by Gen Z – brands will need to pay attention to this year. Here's what we learned:
1. Gen Z, like the rest of us, is excited to get back to normal this holiday season.
Just as revenge travel surged this summer, revenge holiday celebrations are coming this winter, with two thirds of Gen Z saying they're more excited for the holidays this year. The 2021 holiday season was supposed to be the time to get back to normal, but the Omicron variant hit harder and faster than the variants that came before it, canceling many a holiday soiree.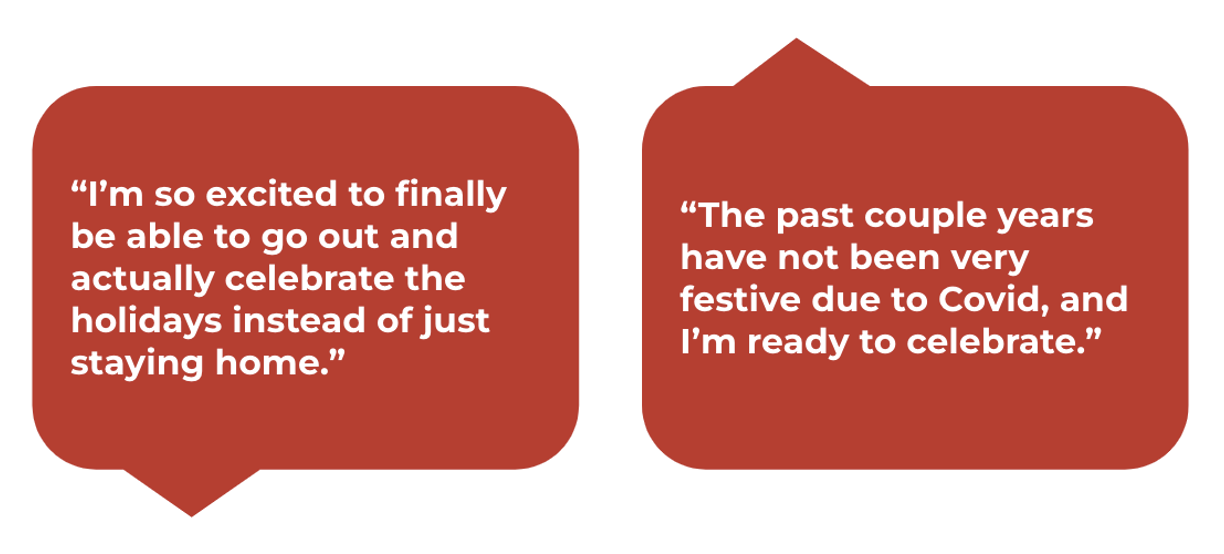 This year, Gen Z is most excited for holiday gatherings with family and friends. For older Gen Zers, it'll be one of the first holiday seasons that they celebrate as adults, so they're ready to go all out with food, decor, and gifts (42% are excited for shopping and gift giving). And while half of Gen Z is worried about inflation, 44% say they won't let it impact their holiday plans.
2. Gen Z loves shopping in-store just as much as they do online.
Contrary to popular belief, our research found that Gen Z prefers a mix of online and in-person shopping. While online shopping offers the convenience they crave, there's something special about the tactile and social experience of in-store, especially around the holidays. Whether the sounds, the smells, the displays — in-person shopping offers a greater emotional pay-off. And it also allows them to try things on, giving them more confidence in their purchase decisions.
It's clear that a strong multi-channel approach to sales and advertising is critical for this generation. They might start their search online and then go in-store to purchase, or they might explore and get inspired in-store and then purchase online. Brands need to show up consistently in both places in order to capture their attention and dollars.
3. They're shopping earlier and seeking more meaningful gifts.
Half of Gen Z say they're shopping earlier this year, and the majority say they're doing so because they get better deals. For online shoppers, starting early lets them plan around long shipping times and delays. For those shopping in person, early shopping is mainly about getting those Pre-Black Friday deals and getting back to old traditions.
Our Gen Z respondents are not only shopping earlier but also shopping for (and hoping to receive) more meaningful gifts. Spending lots of money is not as important as buying and receiving gifts that reflect a deep knowledge of and care for the recipient.
4. Sustainability matters to Gen Z, but it's complicated.
Nearly two in three Gen Zers believe sustainability matters when making purchase decisions, and 41% say sustainability is equally important throughout the supply chain – from creation to sourcing to shipping. We've seen the impact of these beliefs through the rise of up-cycling, the success of second-hand marketplaces, and major brands like Walmart and Adidas partnering with sustainable DTCs.
Gen Z feels sustainability does (or at least should) impact every aspect of holiday shopping, from choosing in-person over online shopping (to avoid the environmental impact of shipping) to picking products that are made more sustainably. However, they recognize that sustainable choices can be a privilege because of the way it can increase a product's price tag. So while they want to make more sustainable choices during the holidays, they see sustainability being a luxury they may not be able to afford, especially given the current rate of inflation. If brands can find a way to make sustainable choices more accessible and affordable, Gen Z will reward them with money and loyalty.
Gen Z is driving what the new holiday shopping normal will be. From in-store shopping to gifts laced with meaning, brands will need to pay attention to this generation as it gains spending power. Brands that do will have a leg up going into the "new normal" of 2023.
—
This study was a quali-quant approach. The quantitative digital survey, sponsored by Chemistry's The Market Research Lab, captured 1,146 respondents between the ages of 13-25 across the U.S. Our qualitative survey conducted via Instagram + TikTok, sponsored by Sympler, captured 53 Gen Z shoppers across the U.S.
About The Market Research Lab
Every smart marketing soul needs data-driven confidence. That's why Chemistry created The Market Research Lab, an in-house consumer insight team that delivers breakthrough human truths through concept testing-in-the-wild, speed ethnography and quali-quant research all done in a minute and on a dime.
About Sympler
Sympler is a new kind of qualitative research platform that delivers the depth of ethnography at the scale and speed of quant. It uses conversational technology to have candid discussions with people in their native environments of private chat messaging. Through probing and projective exercises, Sympler reveals the humans behind the numbers.